Edgar Townhouse Hotel Bath – Our Location
The Edgar Townhouse Hotel is located in one of the most famous and historic streets in Bath – Great Pulteney Street. This grand road connects Bathwick on the east of the River Avon with the City of Bath via Pulteney Bridge, which was designed by Robert Adam.
The road leads directly to the Holburne Museum of Art. Great Pulteney Street was commissioned by Sir William Pulteney, designed by the architect Thomas Baldwin and completed in 1789.
At over 1,000 feet the road is the widest and grandest in Bath. Famous former residents include the novelist Jane Austen and the anti-slavery campaigner William Wilberforce.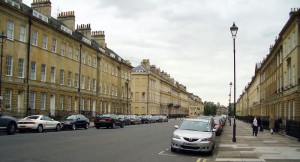 Our hotel is situated in the centre of Bath, just a 5 minute walk into the centre with all its attractions; including the famous Pump Rooms and Bath Abbey. It has 18 comfortable en-suite bedrooms which all have showers, tea and coffee making facilities.